Za'atar is a middle eastern generic name for a number of herbs including thyme, oregano, basil thyme and Winter/Summer savoury, but it is also the name of a condiment in Arabian cuisine made with a mix of sesame seeds herbs and spices. One of those spices is sumac, a lemony red coloured spice, which has begun to appear in recipes on cooking shows and is now readily available in most supermarkets. This is my version of za'atar served on flatbreads with a yoghurt dip:
Ingredients
For the za'taar mix
3 tbsp sumac
3 tbsp sesame seeds
2 tbsp marjoram
2 tbsp thyme
3 tbsp oregano
1 tsp cumin
2 tsp salt
For the flatbreads
400g plain flour
1 tsp salt
1 tbsp honey
1 tbsp easy yeast
2 tbsp olive oil
Hand full of fresh chopped coriander (optional)
200ml water
For the yoghurt dip
300ml greek yohurt
2 cloves crushed
2 tbsp ground cumin
1 tbsp ground corriander
1 tsp crushed chillis
1 tsp paprika
Method
First make the za'atar mix by toasting the sesame seeds in a dry frying pan, keep watching as they can burn quite easily. They are done when they just start to turn a golden colour. Add the sesame seeds to a bowl and the add all of the other ingredients. You can use all dried herbs but I personally use a mixture of both dried and fresh; fresh thyme and marjoram and dried oregano. Once all combined you can seal in a jar and it will keep quite happily for several weeks.
To make the flatbreads, add the flour, salt and chopped coriander into a large mixing bow and stir until well mixed. Measure out the water in a jug and add the honey and yeast, stir and leave for a few minutes to allow the yeast to start working. Add the wet ingredients to the bowl with the dry and stir until a dough starts to form. Tip out onto a lightly floured surface and knead for ten minutes or until the dough becomes smooth and elasticated. Form into a ball and leave to prove in an oiled bowl, covered with a plastic bag or a damp dish cloth. The dough will be ready after an hour when it should have doubled in size.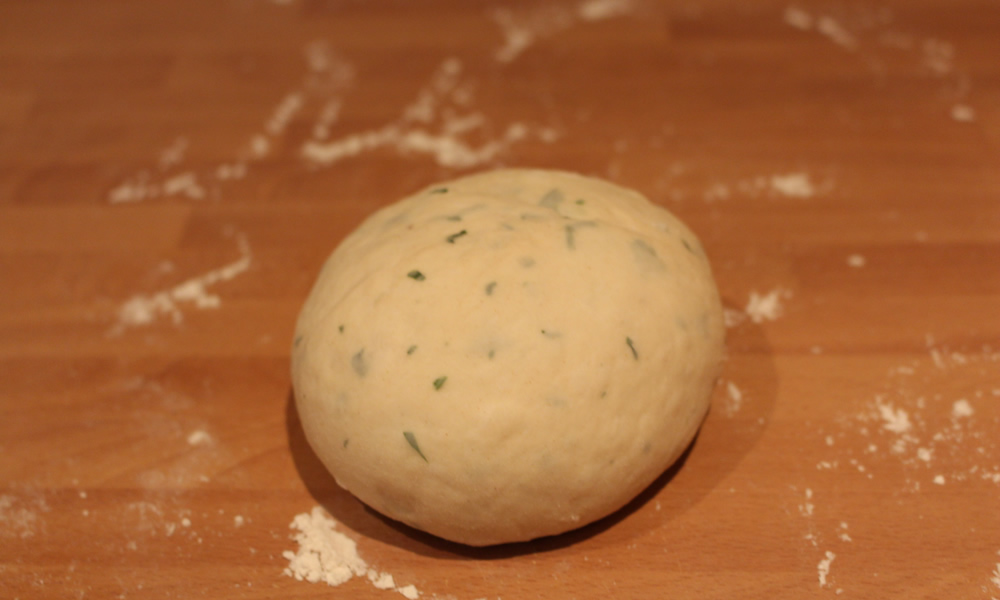 Preheat the oven to 200C. Take the dough out of the bowl onto a well floured surface and "knock it back" ( basically punch the air out of it). Form into 4 equal sized balls. Take one of the balls and roll out into a circle with a rolling pin to the thickness of about 3-4mm. Repeat with the other pieces of dough.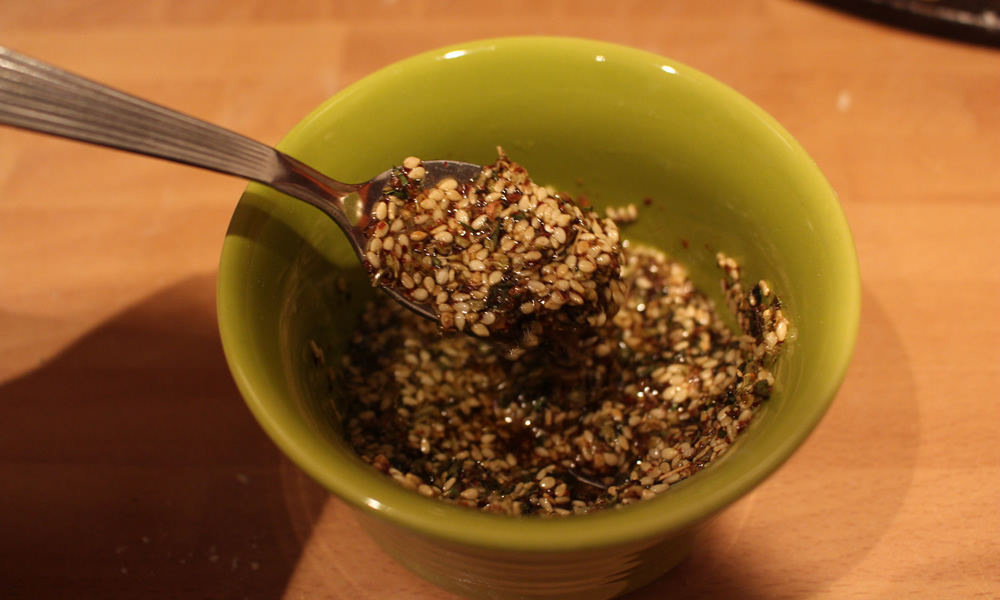 Take the za'atar mix and put it into a bowl along with enough olive oil to make a loose mixture. Spread the mix onto the flatbread leaving a couple of centimetres around the edge.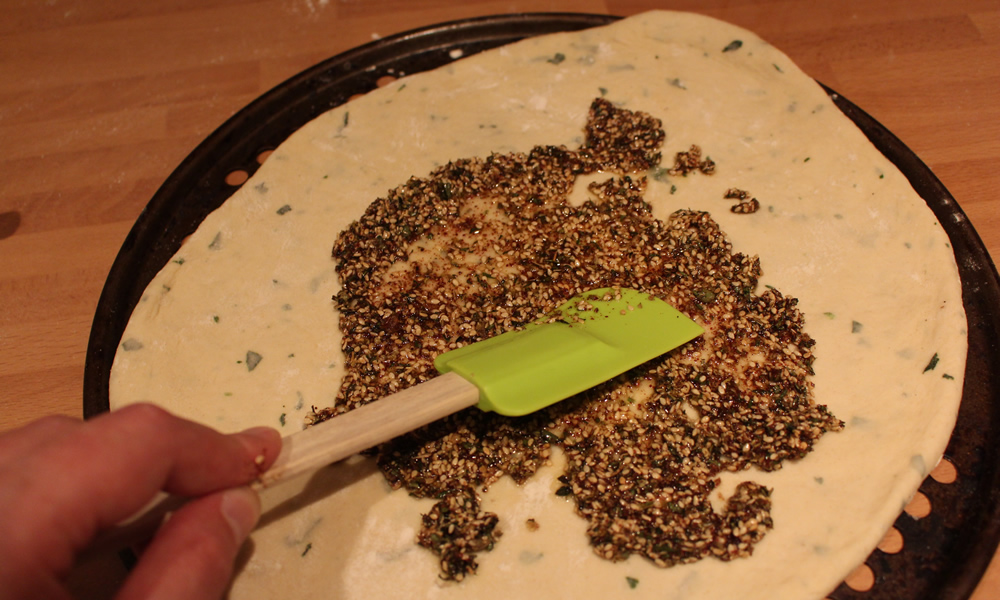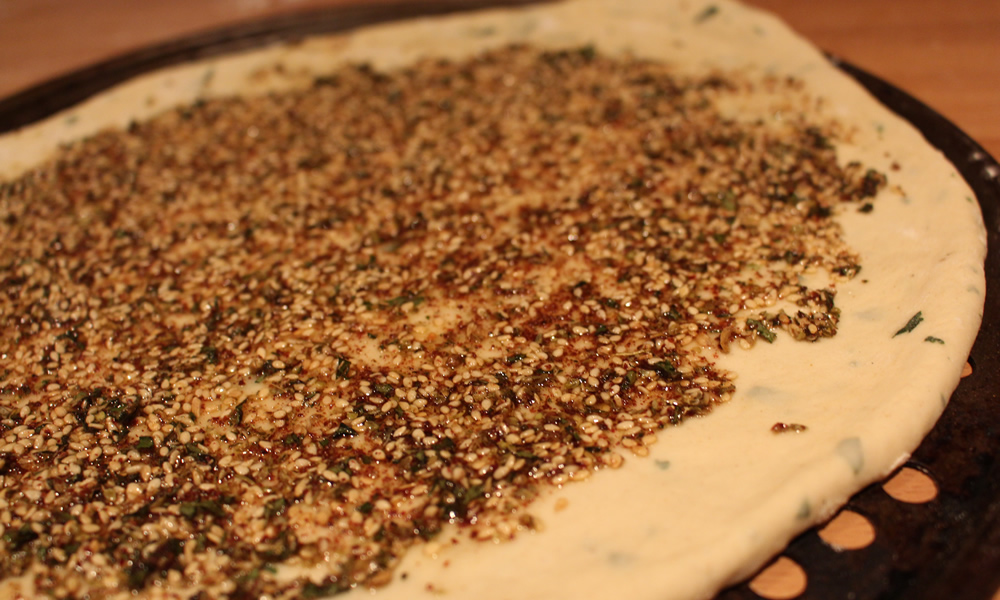 Place a flatbread or flatbreads (if you have room) on a large baking tray or a pizza stone and cook for 8 minutes until it starts to turn golden.
To make the the yogurt dip mix all the ingredients in a bowl and stir well. Cut the flatbread into sixths and serve.