Don't Give A Fork is a relatively new burger bar, opening around 11 months ago and as the name suggests the only cutlery you will see is a hefty steak knife so you can cut your burger in half if that's your thing. It has a light and airy feel to it despite it's small floorspace and every table comes with a roll of kitchen roll, the first indication of how juicy the burgers are. Compared to other eateries the menu is small just serving burgers and, (when I visited) 2 types of chips. This is definitely not a bad thing as I'd rather a place do a few items well rather than a lot of things done to an average standard. You can choose from 3 featured burgers or make your own by choosing the meat (beef, grilled chicken or buttermilk chicken) or a vegen option, the cheese and then the sauce, simple but effective. To keep the menu fresh they have a weekly special burger and currently for Christmas, they have a Turkey burger which looks immense.
The first time I visited I went for the "Dirty Bastard Burger" which had everything on it plus some curly fries. To be honest even though the burger was delicious there was probably too much going on for my taste and I really should have had something more simpler so I could really taste how good the burger was. Luckily for me it was only just over a week before I would get another chance. Due to a disaster at Nandos (yes I like to slum it sometimes), where I actually sent my food back, decided to leave got a full refund and had to find somewhere else to eat. As it was a Saturday night we just tried Don't give A Fork on the off chance they had a table, as they they don't take bookings it actually worked in our favour and we were sitting in a nice booth within 15 minutes.
This time I went for the standard make your own and some would say "boring" burger of beef, American cheese and burger relish. But "boring" turned out to be a really tasty double burger, extremely juicy and still a little pink in the middle, the way it should be. Coming with loads of gooey cheese and sweet burger relish all wrapped up in a soft brioche bun. I had my burger with a side of sweet potato fries, which are probably the best I've had, ever. Service was very good and the food came quick, piping hot.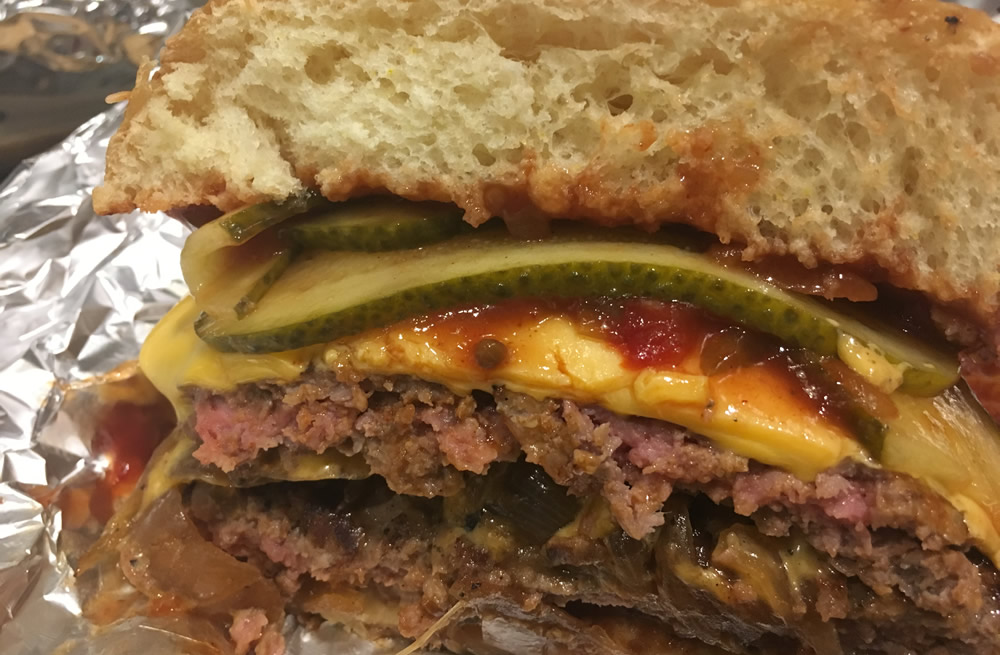 Beef, American Cheese and burger relish
The only slight negative I have was the sauce pots are 44p each which unless you spot it on the menu, you might be a little miffed. Having said that I thought the price of the burger and fries were extremely good and great value, with two burgers and two fries coming in at just under £18 and with the quality of the food you can't go wrong. You can check out their links below.
Facebook – www.facebook.com/wedontgiveafork
Website – www.wedontgiveafork.co.uk
Tel – 01772 203775