I bought this lovely piece of salmon from the local fishmonger, it was about £10 in price but well worth it. I wanted to do something a bit different with it and needed to have it at work so decided to make some wraps beforehand so I could eat it on the go. This is what I came up with…
Ingredients
Piece of salmon (about 20cm long)
2 lemons
Bunch of dill
Jar of salted capers
2 gem lettuces
1 red onion
150ml sour cream
50g cream cheese
Salt and pepper
Oil for frying
Method
First empty the jar of capers into a sieve and rinse off the salt. Pat with kitchen roll and leave to dry. Finely slice the red onion and place in a bowl. Squeeze some lemon juice over the slices and leave to one side. This "cooks" the onion in the acidic lemon juice and makes it less harsh, this is optional if you like the kick of a raw red onion.
Salt and pepper the salmon piece on each sides and place on a peice of tin foil large enough to wrap the whole salmon like a parcel. Slice half a lemon and place on top of the salmon along with a few sprigs of dill. Drizzle with a little olive oil and bake in the oven at 180°C for 20-30 minutes until cooked.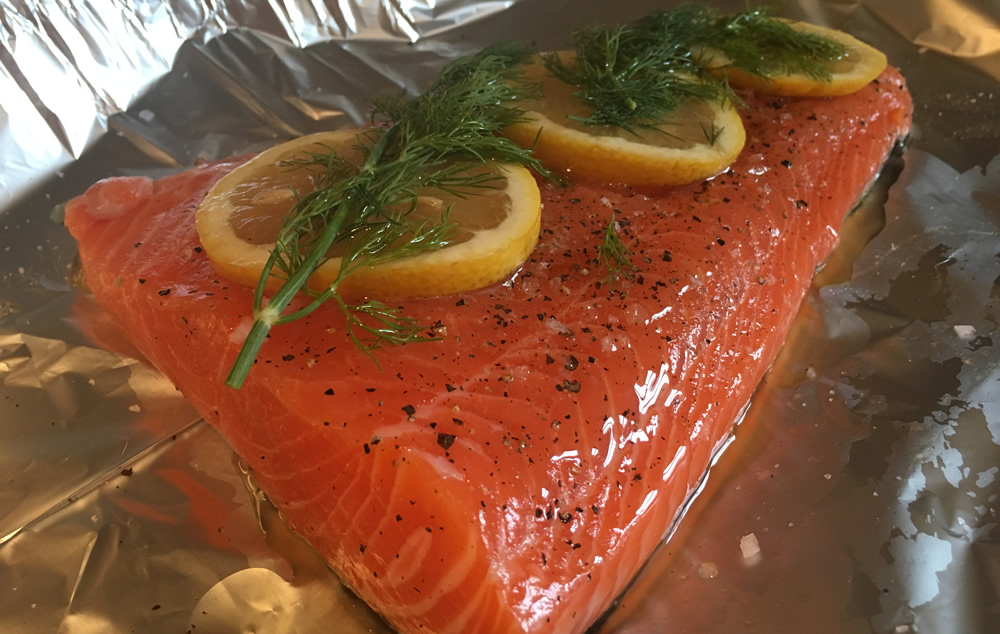 While the fish is baking it's time to make the cream. In a bowl or small blender add the sour cream and the cream cheese along with around a tablespoon of finely chopped dill. whizz up and add a little lemon juice, not too much or it will become too watery. Taste and season with salt and pepper.
To make the crispy capers add some oil to a depth of 1cm in a deep frying pan and put on a high heat until it begins to "shimmer". With another frying pan to hand add the capers to fry. Use the other frying pan to cover to stop the capers popping out of the oil. Fry for a few minutes until they become crispy. Leave to dry on kitchen roll.
When the fish is cooked take out of the oven and start to warm the tortillas in a frying pan. Assemble the wraps with the lettuce, red onion, some of the salmon, and drizzle over the dill cream and then finally the crispy capers. Finish with another sprig of dill, wrap up and serve.