Manchester beer and cider festival 2017 or #MBCF17 as the "cool" people would say is in full swing this week and on Wednesday I managed to get to the trade session courtesy of The Factory Tap. With over 750 beers and ciders there was a plethora of liquid refreshment ranging from light sours all the way to barrel aged porters and to be honest I had a very daunting realisation that in the 3 hours I was there I wouldn't be able to scratch the surface.
Before we arrived at the Festival we decided to stop off at a couple of bars in Manchester, purely for research purposes you understand. First on the list was 57 Thomas Street, a Marble Brewery pub in the very hip and trendy Northern Quarter. With only 2 beers on cask and 8 on keg, it was a testament of how "craft keg" has really taken off especially in hipster country. The beers I tried were the Marble Earl Grey IPA (cask) and Tiny Rebel Brewery Stay Puft (keg). Both very nice indeed especially the Stay Puft which I had already marked down to try at the festival. 
Second stop was the Beermoth Café, another great bar with a very good selection of both cask and keg beers. I had a half of Rooster's Riwaka, which to be honest was just ok. After this short pit-stop it was time to head to the festival.
This was my first "big" beer festival and when I say big I mean huge. Set in the colossal and beautiful Manchester Central Convention Centre (formally the G-mex centre and before that the Manchester Central Railway station) it took up 9 of the centres "sections" up by 2 from the very first festival last year.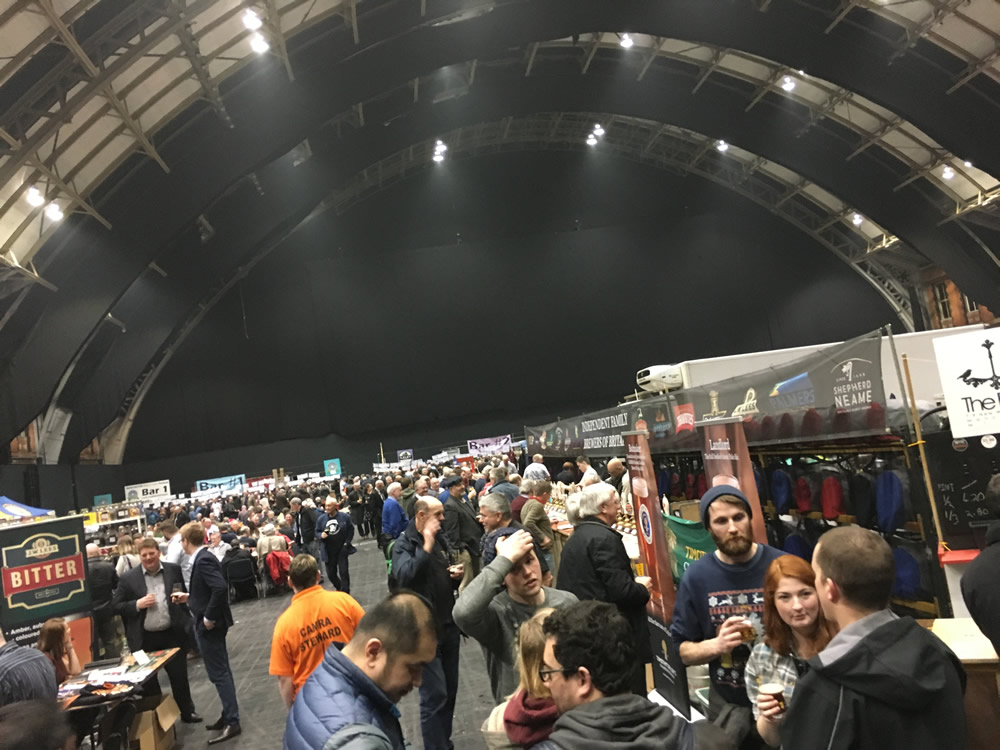 In the centre of the convention complex there was a square of brewery bars including Tiny Rebel, Marble, Blackjack and local to me Hawkshead. At the back filling up the entire back wall all the rest of the beers, luckily in alphabetical brewery order.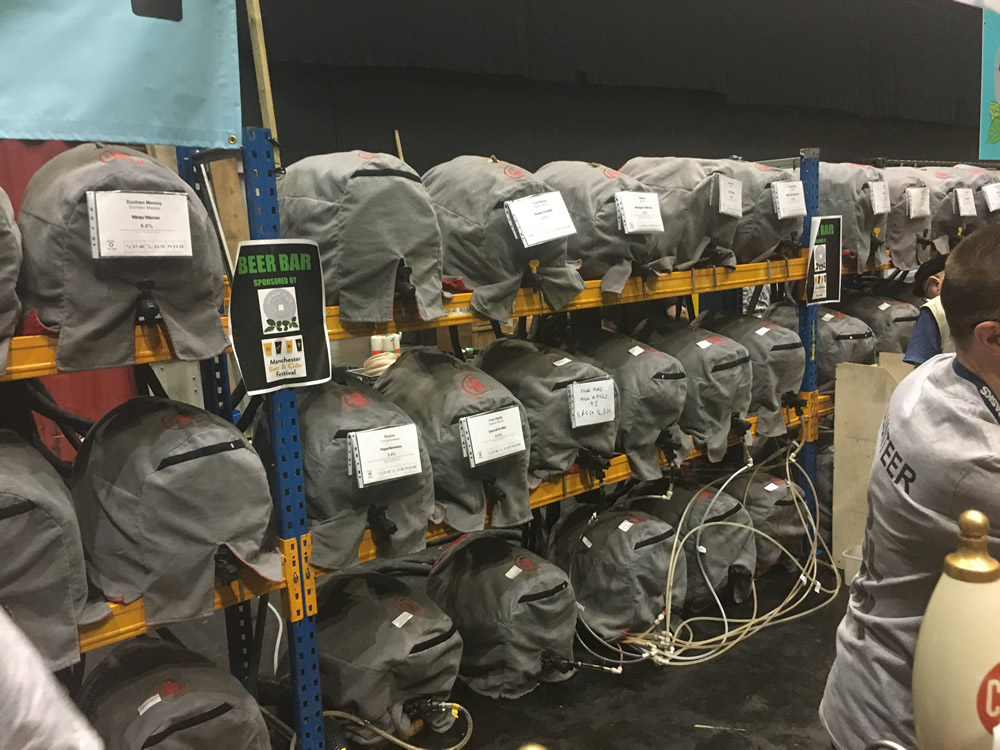 First on the list to try was the cask version of the Tiny Rebel's Stay Puft which is dark porter style beer with a massive hit of toasted marshmallow flavour (hence the name). Really fantastic flavour and a stand out of the festival. I didn't go far for my next tipple. in fact just 5 handpull along Tiny rebel's Cwtch (pronounced "cutch" meaning hug) the Champion beer of Britain and you could understand why, full of hoppy flavour but balanced with a crisp refreshing finish.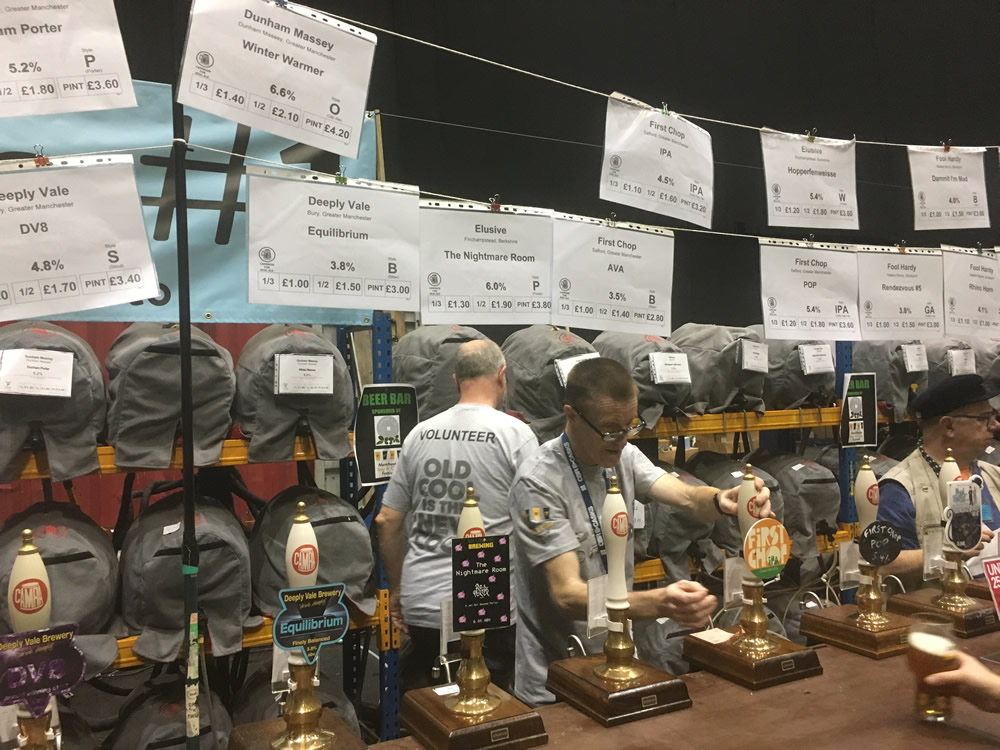 Another stand out ale was Darkstar's Creme Brûlée and as you have might has guess a very dark beer flavoured with creme Brûlée. As with the Stay Puft it was another great example of unusal flavoured beers that actually work and are enjoyable.
Having had a few thirds I thought i'd better have something to eat and wondered around the sides of the centre where there was a number of food stalls. I settled on a stateside burger from What's your Beef, which was fantastic and came in a little paper packet to keep those juices in, clever eh?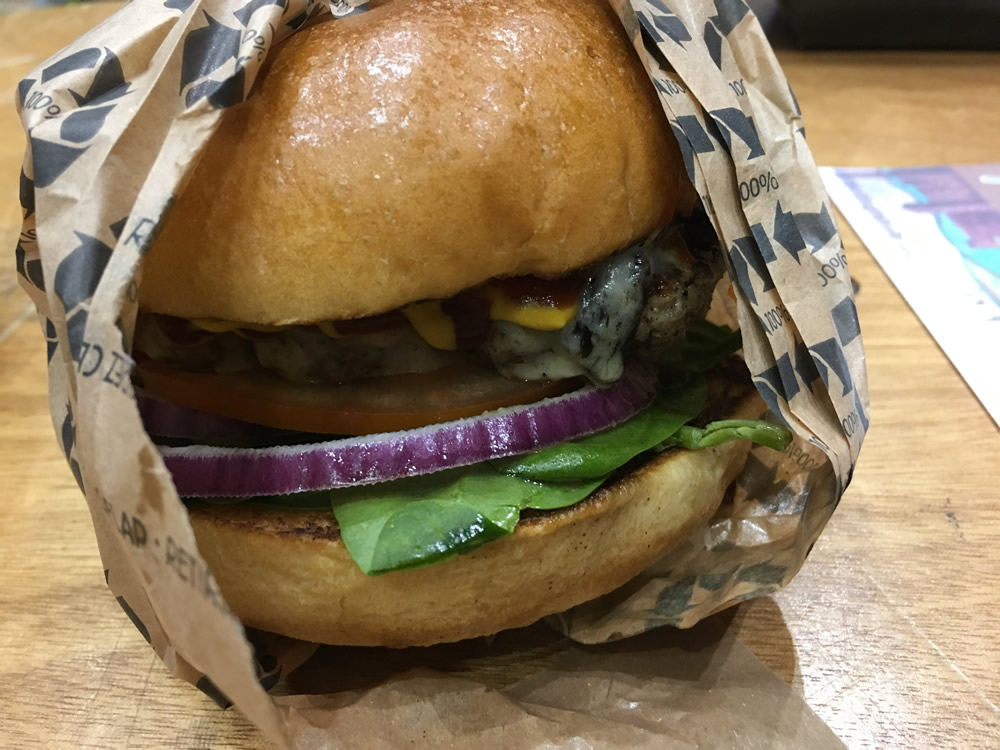 The Blackjack Brewery bar was next on the list and I tried the Black Maria, a black IPA. Another good dark ale with lots of hops. Overall I tried between 10 and 15 beers (in thirds, I was being sensible) and not one of them was undrinkable. Yes some were better than others but the vast majority were very good indeed.
Unfortunately it was soon time to leave. Despite having a really good go the problem was that there was just too little time to try more than a small portion of what was on offer, maybe next year it will be a two day job?