This recipe comes from the great book Wild Cocktails by Lottie Muir, I will be reviewing it on this site as soon I create a few more of these wonderful concoctions.
Lavender gin itself is quite easy to make and all it really requires is time. Finding the right gin to make it with however, is another matter. It took me three attempts to find a suitable gin: the first I tried was Bombay Sapphire and then Botanist Gin from Islay. Two superb gins but just too many botanicals in them already for the lavender to come through and shine.
Luckily one of my colleges was told by a cocktail bartender that Aldi Gin is one of the best for cocktails as it's not very flavourful but still a good quality gin. Lottie Muir suggests Old Tom Gin but gins like Tanqueray I think would work well. Also be mindful of the lavender you use as there are many types some not that great for culinary use. I used classic English Lavender which is really good for cooking.
Ingredients
For the gin
70cl Gin
4 lavender flours
Sprig of lavender
For the drink
More lavender flowers
Boiled water
Tonic
Slice of lemon (optional)
Method
The lavender flowers are best picked when they are not fully open and on a bright sunny day. In a jar add the gin, the 4 flower heads and the sprig of lavender. Seal the jar and gently turn it upside side down a couple of times and leave for 5 hours in a cool place. After 5 hours, give it a taste. What you are looking for is a nice lavender smell with a subtle lavender taste without it becoming too bitter. If you are starting to get a bitter taste then remove the lavender, if not then leave for another 3 hours, checking every hour for the bitterness levels.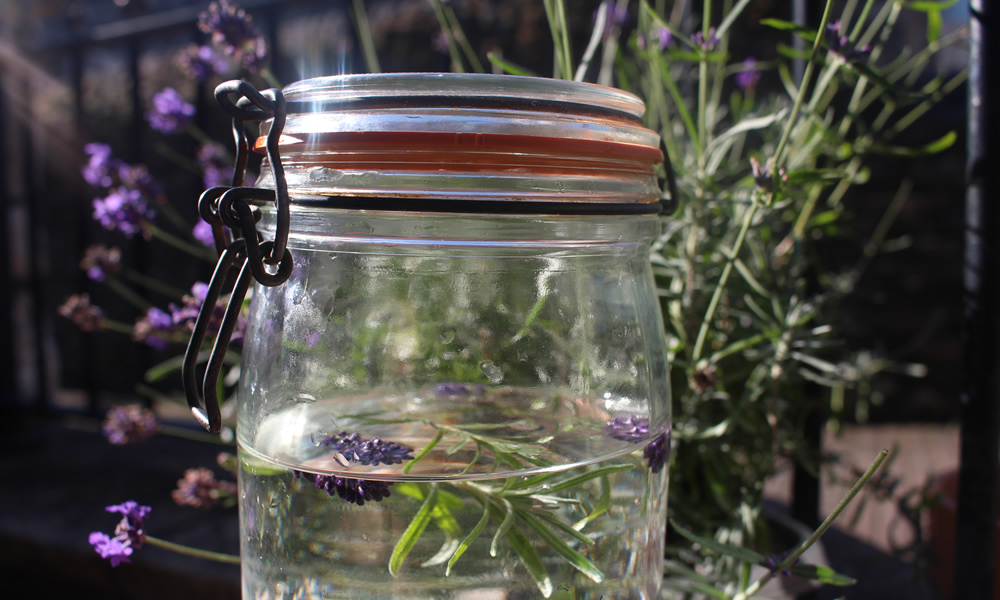 While the gin is infusing, you can make the lavender ice cubes. This doesn't have much effect on taste but just makes the drink look nice and pretty. Half fill an ice cube tray with water and put in the freezer until it is frozen. Add a flowerhead to each section of the ice cube tray. The lavender head should sink so it comes to rest on the ice and therefore will be right in the middle of the cube when it fully freezes. Top up the tray with water and put back in the freezer.
Top Tip: As you want the lavender flower to show through the ice you do not want the ice to become cloudy as it often does. To create crystal clear ice cubes use filtered water or use water that has been boiled a couple of times to get rid of any impurities that make it cloudy.
When the ice and gin are ready it's time to make the drink. Add a couple of the lavender ice cubes to a glass and pour over a shot or two of the gin. Fill with tonic water, I used Fever-Tree tonic which I think is the best tonic water out there. Garnish with a sprig of lavender and serve.