Dinner at Forestside has been one of the most anticipated meals I have had and a place I've been looking forward to visiting for well over a year. Culinary rumblings first started about a year and a half ago when Kevin Tickle of L'Enclume fame became head chef bringing high quality cooking and foraging expertise to this new kitchen.
A real buzz started to surround Forestside with snippets of information on social media and press articles about the direction and ethos this exciting new hotel restaurant was going to have. Stories about building the kitchen garden, foraging the local area and of course various stunning sneak preview food pics. After a comprehensive refurbishment it was finally open earlier in the year. A couple of months went by and my anticipation grew as I began to hear other people's experiences. As they related to me what they had while salevating I knew I was in for something special. A week ago it was finally my turn…
Walking up the drive to forest side we were greeted by bounding Herdwick sheep in the adjacent field, sudden thoughts of picking out your own Herdwick like picking your own lobster crossed my mind.
The dining experience started with cocktails in the bar area with the most amazing wall paper I've ever seen. The cocktails themselves a "marigold negroni" and "Fennel in Love" were a taste of things to come, well balanced, clean with hints of foraging flair and of course delicious.
After choosing the "Grand 'un" menu along with the prestige drink menu (because lets face it would be rude not to) we were lead into the light and airy dinning room, no dark and dingy dining here. A nice touch and something that bugs me with other tasting menu style restaurants is that menus were brought to the table along with our drinks. I've lost count of how many times I've been half way though a tasting menu and not known what's coming next. It sounds like common sense but you'll be amazed of how this practice is rarely done.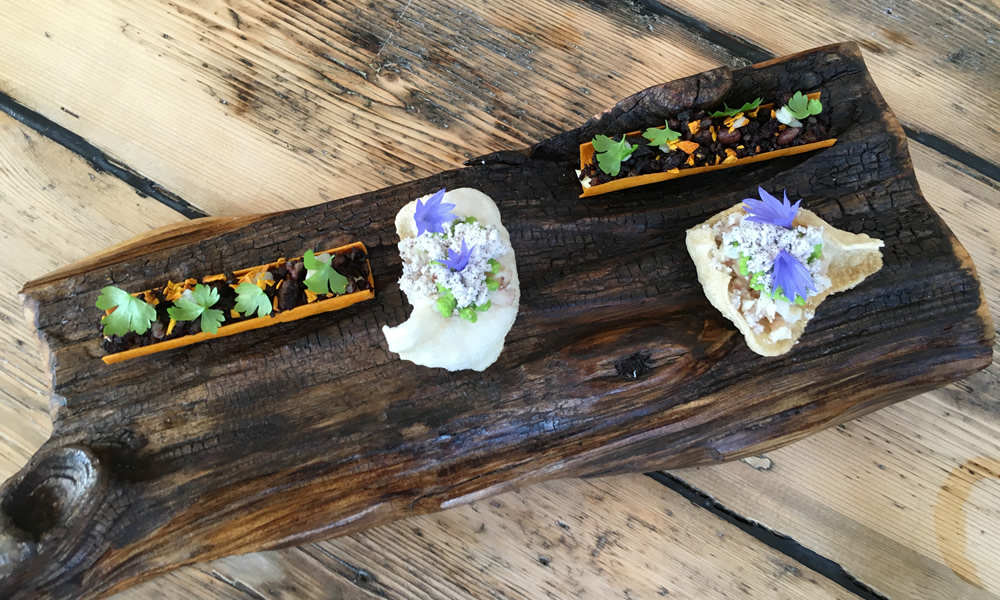 Forestside canapés
Bread was served with butter, but not just any butter, you're at Forestside and at Forestside bread is served with the most amazing butter flavoured with parsley and lovage.
10 courses followed and every single one was an inspired mix of not only superbly cooked food but a well balanced concoction of great flavours with some unusual foraged ingredients. The dishes that stood out for me were the courgette scorched over embers with mint and pumpernickle; the line caught halibut with dittander and razor clam; and the middle white (pork loin) with mugwort, artichoke and daises.

Courgette scorched over embers with mint and pumpernickle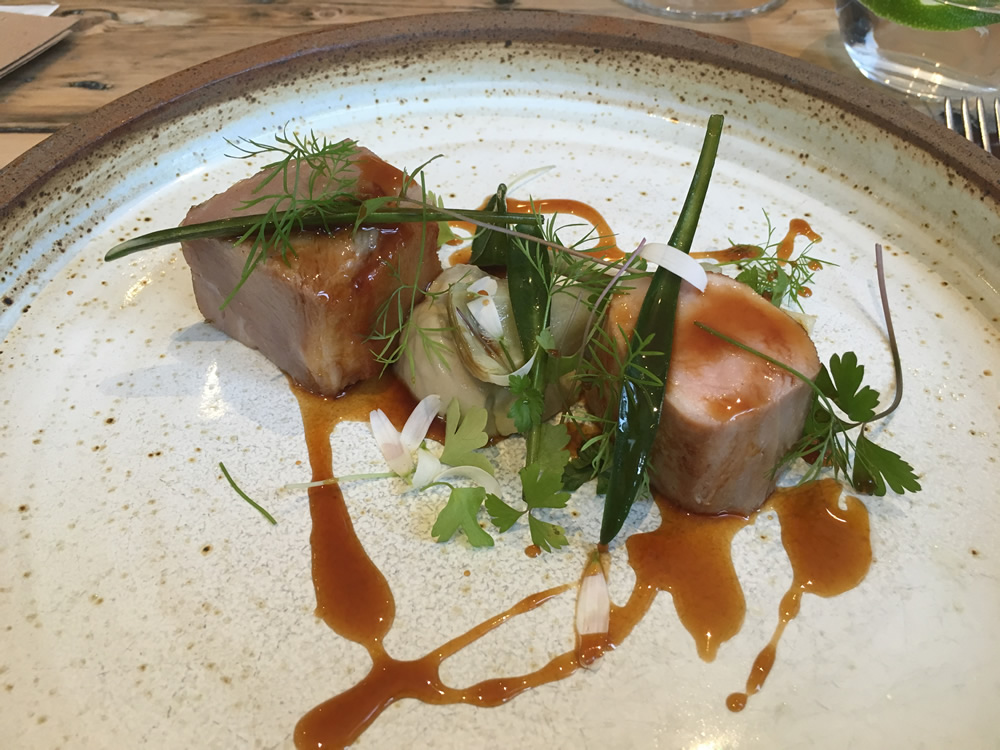 Pork loin with mugwort, artichoke and daises
With the prestige drinks pairing each course came with a drink but not just wine as you usually have but a variety of alcoholic and non alcoholic drinks. Among them a very fine Forest gin and artemisia tonic, Welsh sparkling wine, sparkling sake (if you haven't tried sparkling sake then you must) and fantastic strawberry cocktail served with one of the desserts. The final drink was a foraged sweet cicely spritzer that complimented the sharp gooseberry and buttermilk dessert superbly. It doesn't have to be all about the alcoholic drinks, Forestside do a non-alcoholic drinks pairing for those driving or who want the full tasting experience without the bad head in the morning.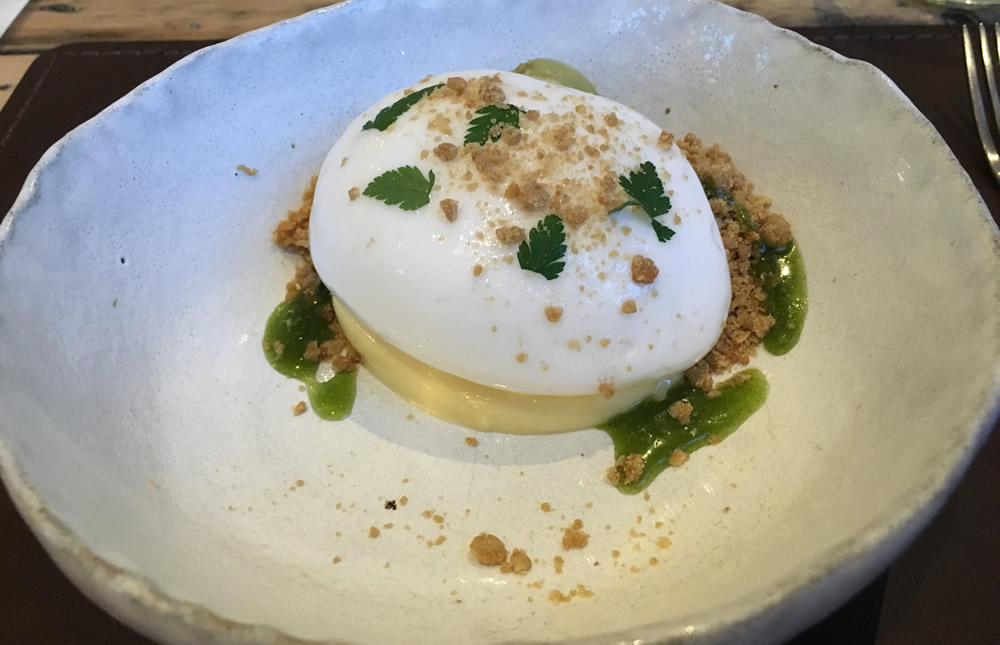 Gooseberry, buttermilk and sweet cicely
With such a build up to this visit and with all the glowing reports it was quite possible that dinner would not live up to expectations. Gladly expectations were not only achieved but well and truly surpassed.