This recipe is from Craig at Edible Leeds that he cooked on the foraging weekend. No wild mushrooms in mine (not quite got the skill level yet to pick my own mushrooms). Other than that I've only made one small amendment from his recipe, I used creme fresh instead of cream. I think the creme fresh adds a little sharpness that works really well with the dish. Flambéing with the brandy is optional but it really makes the difference adding an extra dimension and flavour.
Ingredients (Serves 2)
160g penne pasta (other pasta would also work)
160g mushrooms (I used chestnut)
Knob of butter
Half an small onion finely chopped
2 cloves of crushed garlic
Small splash of brandy (optional)
3 sprigs of thyme
6-8 tbsp of creme fresh
Salt and pepper
Squeeze of lemon
Method
In a large frying pan add the knob butter and melt on a medium heat. When the butter is foaming add the onion and fry for a couple minutes then add the mushrooms. While the mushrooms are cooking you can start to cook the pasta in salted boiling water.
Top Tip: The cooking time of pasta can vary greatly depending on the type or if it's fresh or dried, so you may want to start cooking the pasta before you start frying the onion. The cooking of the mushrooms and creating the sauce takes about 10 minutes so judge for yourself when you should start the pasta.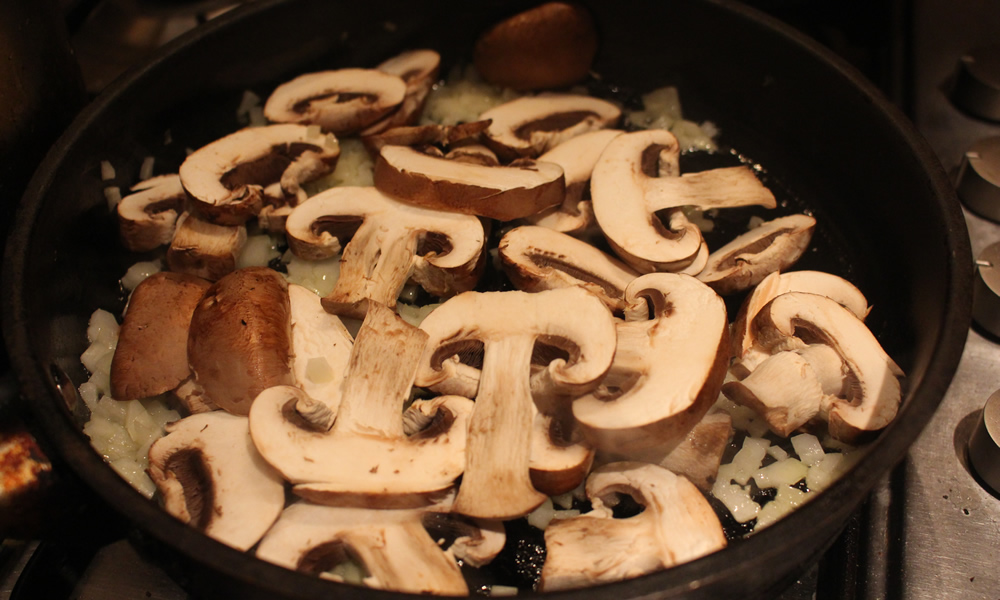 Stir the mushrooms gently and when starting to look a little wilted add the crushed garlic and stir again. After a couple more minutes its time to add the brandy. Carefully add a small splash of brandy to the frying pan and slowing tilt the pan so the flames of the cooker (note this will only work with a gas cooker) ignites the brandy vapours. For a safer approach take the pan off the cooker and turn the gas off and then add the brandy. Use a long match or a gas cooker lighter to start the flambé. After a few seconds the flames should have dissipated. Put back on a medium heat if you chose the safer approach.
Warning: Flambéing can be dangerous and only should be attempted if you are comfortable doing it. This dish will still taste great if you leave this step out.
Add the thyme to the mushroom/onion mix and stir in the creme fresh. Season with salt and pepper. Drain the pasta and stir it into the mushroom cream sauce. Serve with a squeeze of lemon and the leaves of the remaining sprig of thyme.