Being on a health kick, it's sometimes hard to create healthy but tasty food. I've found that I often have the same food over and over again as I know it's tasty and has helped me lose weight in the past, but it can eventually get boring. So this recipe is a spicy twist on a classic healthy stir fry. It's goes really well with noodles or rice, but if you're on a diet like me either leave them out or keep the portion size down. Warning: birdseye chillis are very hot so if you don't like spicy food leave them out or choose a less hot chilli.
Ingredients (serves 2)
6 birds eye chillies
150g pork loin
1tsp crushed Szechuan peppercorns
2 garlic coves
8 baby sweetcorns
100g of green beans
2tsp soy sauce
2tsp fish sauce
1tsp shaoxing rice wine
2 spring onions
Method
In a wok heat a little oil and when it is smoking add the chillies. You want to brown them on all sides so keep turning them, be careful as they can split and burst. To stop this happening make a small incision in the side of each chill. When they are nicely browned and have a little blackening on them they are ready so take them out of the wok and set aside, retaining the oil in the wok.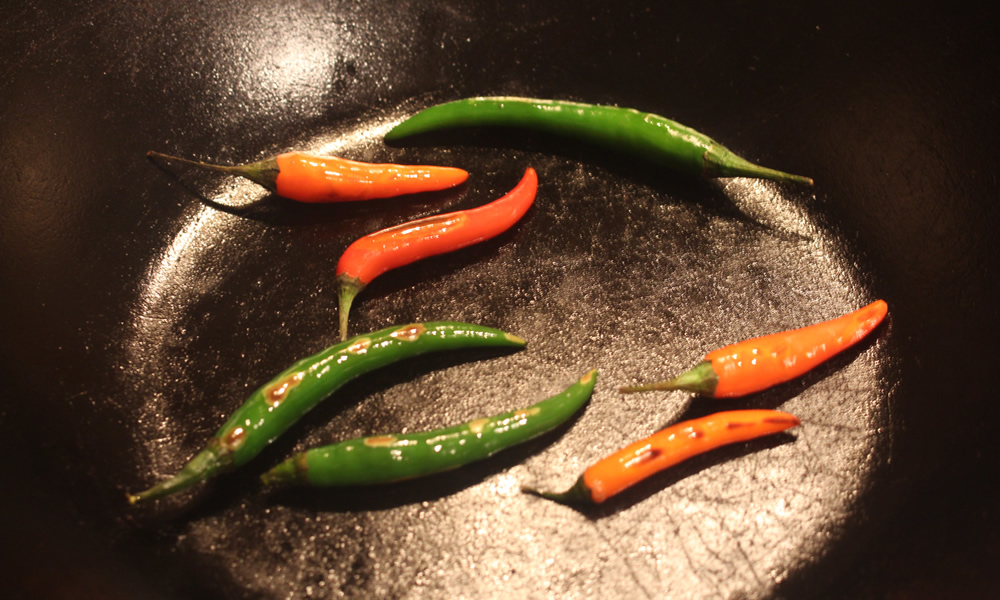 As with all stir fries before you start cooking you need to prepare all the ingredients. Start by slicing the pork loin into about 4cm by 1cm strips no thicker than half a centimeter and crush the Szechuan peppercorns in a pestle and mortar. Slice the baby sweetcorn in half and put in a bowl along with the green beans which should be topped and tailed to get rid of any brown end bits and also cut in half. Finely chop the garlic and add to a ramekin or small bowl along with the soy, fish sauce and rice wine. Lastly top and tail the spring onions, using all of the white flesh up to the first "split" where the green leaves part. Cut in half lengthways, then slice down the length again 3 times to make thin strips. With everything laid out and close to hand it's time to start cooking.
Place the wok with the retained chilli oil from before on a high heat adding a little more oil if needed. Add the crushed sichuan peppercorns and fry for a couple of minutes until they become fragrant, adding the pork shortly after. Fry for a few minutes constantly stirring until the pork is nice a brown on all sides. With a slotted spoon remove the pork and set aside on a plate. Keeping the wok on the heat add the sweetcorn and green beans and cook until tender. This should take 4 to 5 minutes. Add back in the pork and the fried chilli from before along with the garlic, soy, fish sauce and rice wine mix. Fry for a couple more minutes and serve garnished with the sliced spring onion.