I love making a big bowl of chilli as it's quite versatile. Not only can you have it the "classic" way with rice but you can use it for pies, burritos, on chips, chilli dogs (Hot dog with chilli on top) or stuff peppers or potatoes with it. So it's well worth having a good chilli recipe to turn to. My version uses 3 types of meat and beer instead of stock. I used Bowness Bay Brewing's Swan Black but a chocolaty stout or similar would work well.
I served my chilli in a bowl with cheese, sour cream and french fries.
Ingredients
1 onion
3 garlic cloves
100g chorizo
4 anchovies
400g beef mince
200g pork mince
2 tbsp chilli powder
3 tsp ground cumin
2tsp ground coriander
1tsp paprika
2 red chillies
2 sweet red peppers
2 cans of chopped tomatoes
1 can pinto beans
150ml of dark beer
5 birds eye chillies (optional)
Method
Start by dicing the onion, finely chopping up the garlic and cubing the chorizo. When you have done this put a heavy based casserole pan with a splash of olive oil on a medium heat. Add the onion and cook until starting to become translucent. Then add the chorizo, anchovies and garlic and cook for a further 3 minutes. Add both minces and cook until browned, occasionally stirring.
Top Tip: Anchovies are a great seasoning ingredient. It gives recipes a nice salty but deep flavour. Using them in this quantity won't make the chilli at all "fishy" as you might think.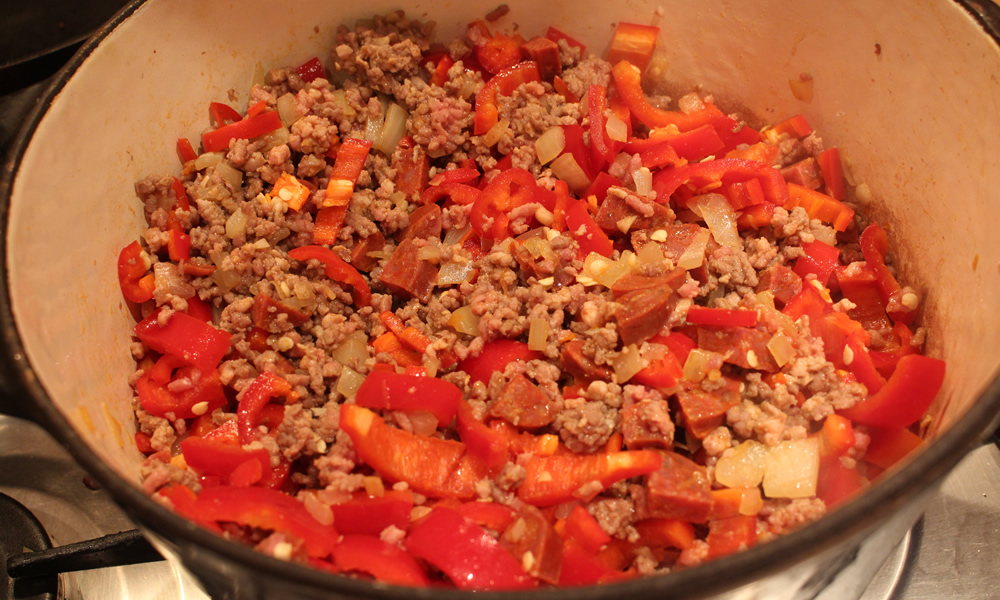 Add the chilli powder, cumin, coriander and paprika followed by the sliced chillies and chopped sweet peppers and give it a good stir. Cook for a further 5 minutes. Finally add the 2 cans of chopped tomatoes, pinto beans, the beer and the whole birds-eye chillies if using. Stir and season for taste. Cover a let simmer on a very low heat for about 2 and half hours, checking every half an hour and giving it a stir. You may have to add more beer if it looks to be drying out.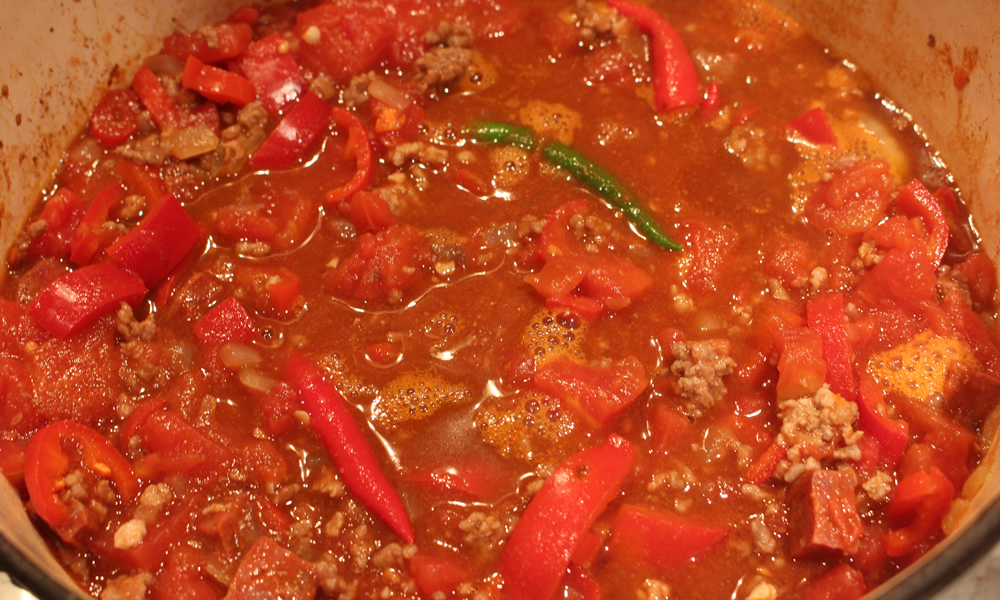 After 2 and half hours the chilli is ready to serve, however it's a lot more flavoursome the next day so if you can leave for 24 hours for the favours to develop then do. Reheat and serve with whatever you want to go with it.